A blast from the past: Lohan~
Arg, she used to be as cute as a button! Remember her in the Parent Trap? The cutest movie ever made. But she's all grown up and...lesbian now? Geesh, I'm duly reminded to stay away from booze and frenzied partying. Amen to that.
Before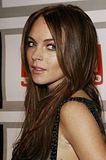 After
Had to erase like a thousand freckles from her face and arms... My poor fingers...